Jurnal Farmasi Indonesia (e-ISSN : 2302-4291 dan ISSN : 1693-8615) merupakan jurnal yang dikelola oleh Fakultas Farmasi, Universitas Setia Budi yang terbit sejak Februari 2004 dan terbit 2 kali dalam setahun yaitu periode bulan Maret dan November. Jurnal Farmasi Indonesia menerima naskah tentang hasil penelitian laboratorium, lapangan, studi kasus, telaah pustaka yang erat kaitannya dengan bidang kefarmasian, kesehatan dan lingkungan hidup.
Current Issue
Vol 18 No 1 (2021): Jurnal Farmasi Indonesia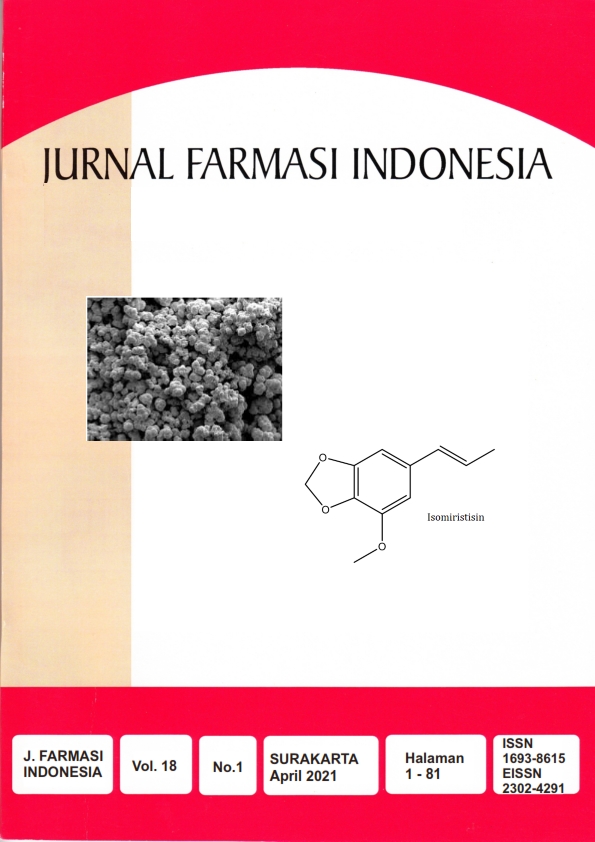 Jurnal Farmasi Indonesia Volume 18 Number 1 April 2021 presents various research articles in Scope of Pharmacy. In this edition, Jurnal Farmasi Indonesia made an MoU with Universitas Muhammadiyah Yogyakarta by publishing the selected manuscript which was presented at The Second International Conference on Pharmaceutical Updates (ICPU 2020).
View All Issues