UJI EFEK ANTIBAKTERI KEFIR SUSU KAMBING DENGAN PENAMBAHAN MADU TERHADAP BAKTERI Salmonella thypi
Happy Elda Murdiana

Politeknik Kesehatan Permata Hati
Abstract
Abstrak :         
Ekstrak tumbuhan dipercaya dapat menghambat beberapa mikroba pathogen pada infeksi saluran pencernaan. Penggunaan antibakteri yang berasal dari ekstrak tumbuhan mempunyai kelemahan jika dibandingkan dengan penggunaan probiotik untuk penanganan kasus infeksi bakteri pada saluran pencernaan. Penelitian ini bertujuan untuk menguji efek antibakteri dari kefir susu kambing dengan penambahan madu terhadap bakteriSalmonella thypiserta mengetahui pengaruh dari penambahan madu pada kefir susu kambing. Variabel yang diukur yaitu efek antibakteri dengan melihat zona hambat dan sifat kimia yaitu pH dengan pH meter. Kemudian hasil dianalisis dengan ANOVA dan Tukey dengan taraf kepercayaan 95%.Formula kefir susu kambing yang dibuat adalah kefir 2%, 4%, 6% dengan penambahan madu 10% untuk masing-masing kefir susu kambing.Pada penelitian ini, uji efekantibakteri dilakukan dengan metode Kirby Bauer, dan diuji nilai pH tiap kefir. Hasil analisis efek antibakteri kefir susu kambing berkisar antara 9,8-12 mm, dan nilai pH kefir susu kambing 3,7-6,4. Kefirsusu kambing dengan konsentrasi 2% memiliki efek antibakteriyang paling tinggi.
Kata kunci :kefir, Salmonella thypi, susu kambing, madu.
Abstract :
Plant extracts have been known can obstruct some pathogenic microbes in the digestive tract infections.The usage of antibacterial agent derived from plant extracts has a weakness compared to probiotics for the handling of the bacterial infections cases in the digestive tract. This study was ainted to find out  of antibacterial efect of kefir milk of goat by the addition of honey against the bacterium Salmonella thypi and knowing the influence from the addition of honey on kefir milk of goat. The measurementvariableis : antibacterial efectwith determine the inhibitor zone and chemical theproperties such as pH with pH meter. The result of the study is analyzed with ANOVA and Tukey with standard confidence 95%. The tested formula kefir milk of goat is 2%, 4% and 6% by the addition of 10% honeyfor each kefir milk of goat.In this research, antibacterial efect test was donebymethod of Kirby Bauer. The result of antibacterial efect analysis of kefir milk of goat ranges between 9,8 – 12 mm, and pH values kefir milk of goat 3,7-6,4. Kefir milk of goat with the concentration of 2% is the most highantibacterial efect.
Keywords : Kefir, Salmonella thypi, cow's milk, goat's milk, honey.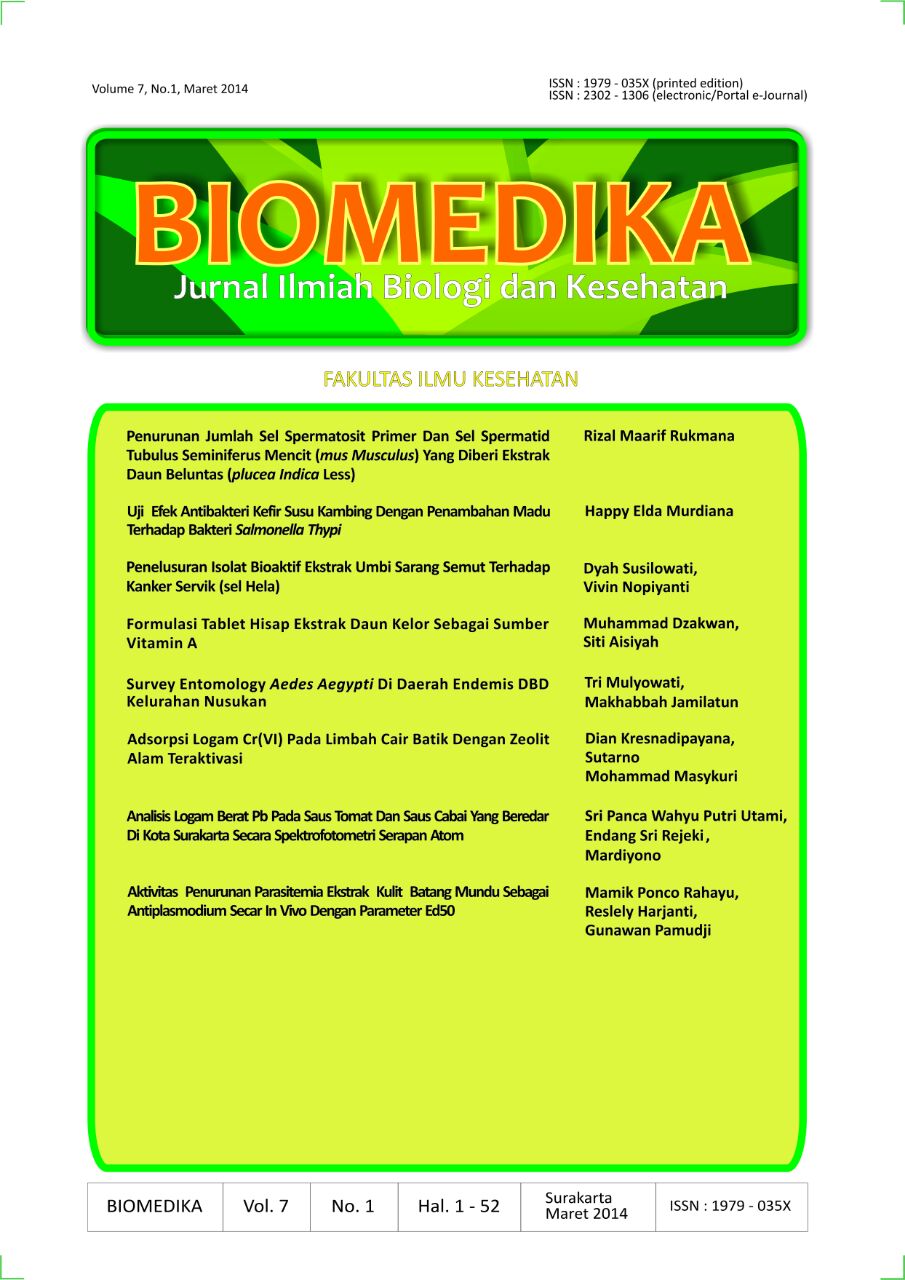 How to Cite
Murdiana, H. (2019). UJI EFEK ANTIBAKTERI KEFIR SUSU KAMBING DENGAN PENAMBAHAN MADU TERHADAP BAKTERI Salmonella thypi. Biomedika, 7(1), 6-12. https://doi.org/https://doi.org/10.31001/biomedika.v7i1.486