Prevalence of Listeria spp. with PRS Genes in Fresh Vegetables from Traditional Markets
A. Kaisar Adiwijaya Putra

Postgraduate Student, Faculty of Pascasarjana, Universitas Hasanuddin

Rizalinda Sjahril

Department of Microbiology, Faculty of Medicine, Universitas Hasanuddin

Arif Santoso

Department of Pulmonology, Faculty of Medicine, Universitas Hasanuddin

Dianawaty Amiruddin

Department of Parasitology, Faculty of Medicine, Universitas Hasanuddin

Andi Alfian Zainuddin

Departmet of Public Health, Faculty of Medicine, Universitas Hasanuddin

Firdaus Hamid

Department of Microbiology, Faculty of Medicine, Universitas Hasanuddin
Abstract
Listeriosis is a foodborne infectious disease caused by Listeria monocytogenes and is considered a serious health problem, due to the severity of symptoms and a high mortality rate in worldwide This study aims to identify and determine the prevalence of Listeria species through prs gene screening of fresh vegetables distributed in several markets of Makassar City. A total of 57 fresh vegetable samples were collected from February to May 2019 in four traditional markets Makassar. The isolates is examines to phenotypically and genotypically Vitek and Multiplex PCR with prs and lmo1030 primer. Phenotype analysis did not show the presence of Listeria species, but the results of genotypic was found 8 positive prs gene samples (14.03%), consisting of 31.2% long beans, 18.2% cabbage, and 9.1% cucumber and. All Listeria species found in this study is Listeria monocytogenes. This study also provide information and additional data that prs genes can be used as screening genotype for identify Listeria species in fresh vegetables.
Keywords:
fresh vegetables, Listeria spp., multiplex PCR, prs gene
References
Aznar R. and Alarcón B. (2003). PCR detection of Listeria monocytogenes: a study of multiple factors affecting sensitivity. Journal of Applied Microbiology. 95: 958–966. [DOI: 10.1046/j.1365-2672.2003.02066.x].
Barocci, S., Calza, L., Blasi, G., Briscolini, S., Curtis, M. D., Palombo, B., Cucco, L., Postacchini, M., Sabbatini, M., Graziosi, T., Nardi, S., Pezzotti, G. (2008). Evaluation of a rapid molecular method for detection of Listeria monocytogenes directly from enrichment broth media. Food Control. 19: 750-756.
Beumer R.R. and Hazeleger W.C. (2003).Listeria monocytogenes: diagnostic problems. FEMS Immunology and Medical Microbiology. 35(3): 191-197. [DOI: 10.1016/S0928-8244(02)00444-3].
Dandapani S., Mary M.S., Mahamuni D., Rengaraj C. (2011). Occurrence of Listeria monocytogenes in Food and Ready to Eat Food Products Available in Tiruchirappalli, Tamil Nadu, India. World Journal Life Science and Medical Research. 1(4): 70.
Doumith, M., Buchrieser, C., Glaser, P., Jacquet, C., & Martin, P. (2004). Differentiation of the major Listeria monocytogenes serovars by multiplex PCR. Journal of Clinical Microbiology. 42: 3819-3822.
Duggal, S., R. Gaind, N. Tandon, M. Deb, and T. Das Chugh. (2012). Comparison of an automated system with conventional identification and antimicrobial susceptibility testing. International Scholarly Research Network Microbiology. 2012. doi:10.5402/2012/107203.
European Food Safety Authority. (2013). Analysis of the baseline survey on the prevalence of Listeria monocytogenes in certain ready-to-eat (RTE) foods in the EU, 2010-2011 Part A: Listeria monocytogenes prevalence estimates. EFSA Journal. 11: 3241.
Jamali H., Chai L.C., Thong K.L. (2013). Detection and isolation of Listeria spp. and Listeria monocytogenes in ready-to-eat foods with various selective culture media. Food Control. 32; 19-24. [DOI: 10.1016/j.foodcont.2012.11.033].
Mazza R., Piras F., Ladu D., Putzolu M., Consolati S.G., Mazette R. (2015). Identification of Listeria spp. strains isolated from meat product and meat production plants by multiplex polymerase chain reaction. Italian Journal of Food Safety. 4(4):5498. [DOI: 10.4081/ijfs.2015.5498].
O'Hara, C. M. (2005). Manual and automated instrumentation for identification of enterobacteriaceae and other aerobic gram-negative bacilli. Clinical microbiology reviews. 18: 147–162. doi:10.1128/CMR.18.1.147
Pesavento G., Ducci B., Nieri D., Comodo N., Nostro A.L. (2010). Prevalence and antibiotic susceptibility of Listeria spp. isolated from raw meat and retail foods. Food Control. 21: 708-713.
Ponniah J., Robin T., Paie M.S., Radu S., Ghazali F.M., Kqueen Y.K., et al. (2010). Listeria monocytogenes in raw salad vegetables sold at retail level in Malaysia. Food Control. 21: 774-778. [DOI: 10.1016/j.foodcont.2009.09.008].
Prahesti K.I., Mayasari N.L.P.I., Malaka R., Yuliati F.N., Pasaribu F.H. (2017). Isolation and Identification of Listeria monocytogenes from Raw Milk in Enrekang District South Sulawesi. Acta Veterinaria Indonesiana. 5(2):57-65.
Ryu J, Park SH, Yeom YS, Shrivastav A, Lee SH, Kim Y-R, Kim H-Y, (2013). Simultaneous detection of Listeria species isolates from meat processed foods using multiplex PCR. Food Control 32:659-64.
Salvat G. and Fravalo P. (2004). Risk assessment strategies for Europe: integrated safety or final product control: example of Listeria monocytogenes in processed products from pork meat industry. Dtsch Tierarztl Wochenschr. 111(8):331-4.
Scallan, E., Griffin, P. M., Angulo, F. J., Tauxe, R. V., & Hoekstra, R. M. (2011). Foodborne illness acquired in the United States-unspecific agents. Emerging Infectious Diseases. 17: 16-22.
Sugiri Y.D., Kleer J., Golz G., Meeyam T., Chaisowwong W., Alter T. (2014). Prevalence and antimicrobial susceptibility of Listeria monocytogenes in fresh poultry products in Bandung, Indonesia. Journal of Food Protection. 77(8): 1407-1410.
Zhu Q., Gooneratne R., Hussain M.A. (2017). Listeria monocytogenes in Fresh Produce: Outbreaks, Prevalence and Contamination Levels. Foods. 6(21). [DOI: 10.3390/foods6030021].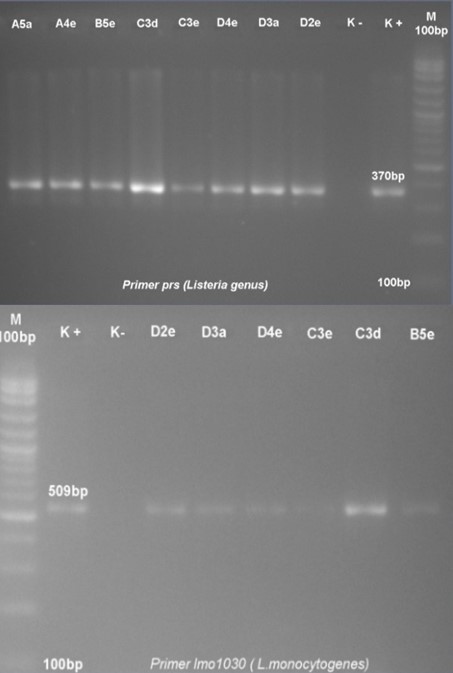 How to Cite
Putra, A. K., Sjahril, R., Santoso, A., Amiruddin, D., Zainuddin, A. A., & Hamid, F. (2020). Prevalence of Listeria spp. with PRS Genes in Fresh Vegetables from Traditional Markets. Biomedika, 13(2), 123-129. https://doi.org/https://doi.org/10.31001/biomedika.v13i2.842