Lemongrass (Cymbopogon Citratus) Essential Oil Inhibits Candida Albicans Growth in Vitro
Yoga Mulia Pratama

Department of Internal Medicine, Faculty of Medicine, Jenderal Soedirman University

Bryan Pandu Permana

Faculty of Medicine, Sebelas Maret University
Abstract
Candidiasis is an important nosocomial infection with high morbidity value, high mortality rate, and expensive clinical cost. However, public access to well-developed treatment is not acquired. Current medicines mostly used like -azol drugs had been showing the resistant effects because of the long period use of the same medicines. Alternative medicines like herb medicine are discussed to reduce multi-resist infections, such as lemongrass Cymbopogon citratus essential oil. This study aims to know the effect of lemongrass essential oil on the growth of Candida albicans in vitro. Laboratory experimental (in vitro) was conducted in this research. Candida albicans strains were being used as the objects, which were picked by random sampling. Candida albicans were divided into 12 groups of treatment, the group I was treated with ethanol 96% as the negative control, group II with fluconazole 25μg as the positive control, and group III-XII with Cymbopogon citratus essential oil with 10%, 20% to 100% concentrated. The diameter of inhibition zones was measured after 2x24 hours incubation. The data was analyzed by post-hoc Mann Whitney test with SPSS 18.0 (p<0.05 considered as significant). Cymbopogon citratus essential oil showed antifungal activity to the Candida albicans began in the 10% to 100% concentration (p<0.05). Inhibition zones with the 50% to 100% concentration had similar results to the positive control (p>0.05). The Cymbopogon citratus essential oil has an antifungi effect toward Candida albicans in vitro significantly by the negative control.
Keywords:
Lemongrass essential oil, Cymbopogon citratus, Candida albicans
References
Abe, S., Sato, Y., Inoue, S., Ishibashi, H., Maruyama, N., Takizawa, T., Oshima, H., & Yamaguchi, H. (2003). [Anti-Candida albicans activity of essential oils including Lemongrass (Cymbopogon citratus) oil and its component, citral]. Nihon Ishinkin Gakkai zasshi = Japanese journal of medical mycology, 44: 285–291.
Denison, H. J., Worswick, J., Bond, C. M., Grimshaw, J. M., Mayhew, A., Gnani Ramadoss, S., Robertson, C., Schaafsma, M. E., & Watson, M. C. (2020). Oral versus intra-vaginal imidazole and triazole anti-fungal treatment of uncomplicated vulvovaginal candidiasis (thrush). The Cochrane database of systematic reviews, 8: CD002845.
Lee, J.-E., Seo, S.-M., Huh, M.-J., Lee, S.-C., & Park, I.-K. (2020). Reactive oxygen species mediated-antifungal activity of cinnamon bark (Cinnamomum verum) and lemongrass (Cymbopogon citratus) essential oils and their constituents against two phytopathogenic fungi. Pesticide biochemistry and physiology, 168: 104644.
Leite, M. C. A., Bezerra, A. P. de B., de Sousa, J. P., Guerra, F. Q. S., & Lima, E. de O. (2014). Evaluation of Antifungal Activity and Mechanism of Action of Citral against Candida albicans. Evidence-based complementary and alternative medicine : eCAM, 2014: 378280.
Li, Y., Cao, X., Ge, H., Jiang, Y., Zhou, H., & Zheng, W. (2018). Targeted surveillance of nosocomial infection in intensive care units of 176 hospitals in Jiangsu province, China. The Journal of hospital infection, 99: 36–41.
Nelwan, E. J., & Wisaksana, R. (2010). Clinical manifestation of oral candidiasis in a HIV patient. Acta medica Indonesiana, 42: 43–44.
OuYang, Q., Tao, N., & Zhang, M. (2018). A Damaged Oxidative Phosphorylation Mechanism Is Involved in the Antifungal Activity of Citral against Penicillium digitatum. Frontiers in microbiology, 9: 239.
Ramírez-Amador, V., Patton, L. L., Naglik, J. R., & Nittayananta, W. (2020). Innovations for prevention and care of oral candidiasis in HIV-infected individuals: Are they available?-A workshop report. Oral diseases, 26 Suppl 1: 91–102.
Riyarto, S., Hidayat, B., Johns, B., Probandari, A., Mahendradhata, Y., Utarini, A., Trisnantoro, L., & Flessenkaemper, S. (2010). The financial burden of HIV care, including antiretroviral therapy, on patients in three sites in Indonesia. Health policy and planning, 25: 272–282.
Rohilla, S., Bhatt, D. C., & Gupta, A. (2018). Therapeutic Potential of Phytomedicines and Novel Polymeric Strategies for Significant Management of Candidiasis. Current pharmaceutical design, 24: 1748–1765.
Sahal, G., Woerdenbag, H. J., Hinrichs, W. L. J., Visser, A., Tepper, P. G., Quax, W. J., van der Mei, H. C., & Bilkay, I. S. (2020). Antifungal and biofilm inhibitory effect of Cymbopogon citratus (lemongrass) essential oil on biofilm forming by Candida tropicalis isolates; an in vitro study. Journal of ethnopharmacology, 246: 112188.
Salazar, S. B., Simões, R. S., Pedro, N. A., Pinheiro, M. J., Carvalho, M. F. N. N., & Mira, N. P. (2020). An Overview on Conventional and Non-Conventional Therapeutic Approaches for the Treatment of Candidiasis and Underlying Resistance Mechanisms in Clinical Strains. Journal of fungi (Basel, Switzerland), 6.
Silva, C. de B. da, Guterres, S. S., Weisheimer, V., & Schapoval, E. E. S. (2008). Antifungal activity of the lemongrass oil and citral against Candida spp. The Brazilian journal of infectious diseases : an official publication of the Brazilian Society of Infectious Diseases, 12: 63–66.
Taguchi, Y., Takizawa, T., Ishibashi, H., Sagawa, T., Arai, R., Inoue, S., Yamaguchi, H., & Abe, S. (2010). Therapeutic effects on murine oral candidiasis by oral administration of cassia (Cinnamomum cassia) preparation. Nihon Ishinkin Gakkai zasshi = Japanese journal of medical mycology, 51: 13–21.
Tang, X., Shao, Y.-L., Tang, Y.-J., & Zhou, W.-W. (2018). Antifungal Activity of Essential Oil Compounds (Geraniol and Citral) and Inhibitory Mechanisms on Grain Pathogens (Aspergillus flavus and Aspergillus ochraceus). Molecules (Basel, Switzerland), 23.
Zheng, S., Jing, G., Wang, X., Ouyang, Q., Jia, L., & Tao, N. (2015). Citral exerts its antifungal activity against Penicillium digitatum by affecting the mitochondrial morphology and function. Food chemistry, 178: 76–81.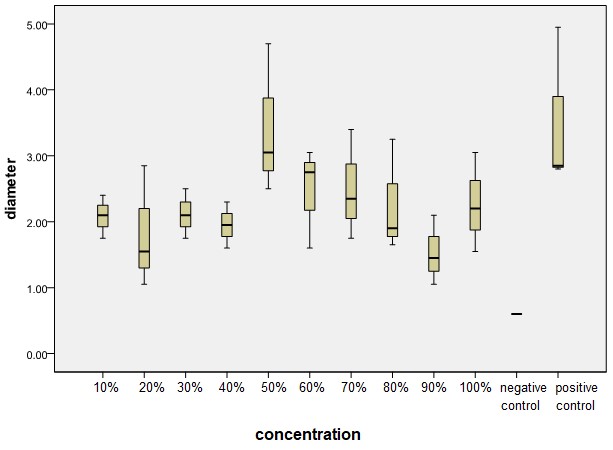 How to Cite
Pratama, Y., & Permana, B. (2020). Lemongrass (Cymbopogon Citratus) Essential Oil Inhibits Candida Albicans Growth in Vitro. Biomedika, 13(2), 142-147. https://doi.org/https://doi.org/10.31001/biomedika.v13i2.943