Antioxidant activity and Vitamin C levels of Fruit Flesh and Dragon (Hylocereus costaricensis) Fruit Syrup
Titin Aryani

Program Studi Teknologi Laboratorium Medis, Universitas 'Aisyiyah Yogyakarta

Isnin Aulia Ulfah Mu'awanah

Program Studi Teknologi Laboratorium Medis, Universitas 'Aisyiyah Yogyakarta
Abstract
Research on antioxidant activity and vitamin C levels of dragon fruit and Hylocereus costaricensis dragon fruit syrup from Kulon Progo has been conducted. The purpose of this study was to study the antioxidant activity and levels of vitamin C in dragon fruit meat and dragon fruit syrup from Kulon Progo. The sampling method is done by purposive sampling method. The method of measuring antioxidant activity using DPPH (1,1-Diphenyl-2-picryl Hidrazil) immersion method was measured with a wavelength of 517 nm. The method of determining the level of vitamin C is carried out by the method of titration of Iodimetry using a standard solution of iodine. The results showed that the average antioxidant activity of dragon fruit was 67.81%, whereas in dragon fruit syrup was 42.81%. While the level of vitamin C in dragon fruit is 12.65% while in dragon fruit syrup is 3.667%. Can reduce the levels of antioxidants and vitamin C levels of dragon fruit higher than dragon fruit syrup.
Keywords:
dragon fruit, dragon fruit syrup, antioxidant activity, vitamin C
References
Aitken, R. J. and Shoun, D. R. 2008. Antioxidant System and Oxidative Stress in The Testes. London Bioscience. Chapter 9. 154-171.

Agarwal, A., Prabakaran, S. A., and Said, T. M. 2005. Prevention of Oxidative Stress Injury to Sperm. Journal Andrologi. 26 (6): 654-660.

Apriyanto, D. R. dan C. Frisqila. 2016. Perbandingan Efektivitas Ekstrak dan Fermentasi Buah Naga Merah terhadap Penurunan Kadar Kolesterol Low Density Lipoprotein (LDL) pada Tikus Putih yang dibuat Hiperkolesterolemia. Tunas Media Jurnal Kedokteran dan Kesehatan. 3(3) : -.

Arel Afdhil, B.A. Martinus, dan Satiti Ambar Ningrum. 2017. Penetapan Kadar Vitamin C pada Buah Naga Merah (Hylocereus coctarisensis (F.A.C. Weber) Britton dan Rose. Dengan metode Spektrofotometer Uv-Vis. Scientia. 7(1):1-5. Februari 2017.

Azizah Zikra, Zulharmita, dan Eki Zulfian. 2017. Uji Aktivitas Antioksidan dan Penetapan Kadar Vitamin C Ekstrak Buah Naga Merah Keunguan (Hylocereus Lemairei (Hook.) Britton & Rose) Secara Spektrofotometri Uv-Vis. Jurnal Farmasi Higea. 9(1):41-47.

Farikha, I. N., Choirul, A., dan Esti, W. 2013. Pengaruh Jenis dan Konsentrasi Bahan Penstabil Alami terhadap Karakteristik Fisikokimia Sari Buah Naga Merah (Hylocereus polyrhizus) Selama Penyimpanan. Jurnal Teknosains Pangan. 2 : 0733-2302.

MacDougall DB. 2002. Colour in Food: Improving Quality. CRC Press, Boca Raton. Gόmez-Plaza E, Miñano A, dan Lόpez-Roca JM. 2006. Comparison of chromatic properties, stability and antioxidant capacity of anthocyanin-based aqueous extracts from grape pomace obtained from different vinification methods.

Mahattanatawee, K., Manthey, J. A., Luzio, G., Talcott, S. T.,Goodner, K., and Baldwin, E. A. 2006. Total Antioxidant Activity and Fiber Content of Select Florida Grown Tropical Fruits. Journal of Agricultural and Food Chemistry. 54 (19): 7355-7363.

Molyneux P., 2004. The Use of Stable Free Radical Diphenylpicrylhydrazyl (DPPH) for Estimating Antioksidant Activity. Songklanakarin Journal Science and Technology. 26(2) : 211-219.
Nataliani Maria Monasias, Khemasili Kosala, Ika Fikriah, Ronny Isnuwardana, dan Swandari Paramita. 2018. Pen
garuh penyimpanan dan pemanasan terhadap Stabilitas Fisik dan Aktivitas Antioksidan Larutan Pewarna Alami Daging Buah Naga (Hylocereus costaricensis). 11(1):1-10. Jurnal Tumbuhan Obat Indonesia. Agustus 2018.

Prior, R.L., Cao, G., Martin A., Soffic E., McEwen J., O'Brien C., Lishchner N., Ehlenfeldt M., Kalt W., Krewer G., and Mainland C.M. 1998. Antioxidant capacity as influenced by total phenolic and antochyanin content, maturity and variety of Vaccanium Spesies. Journal Agriculture Food Chemistry. 46 (7):2686-2693.

Pujiharjo, D. 2010. Kajian Aktivitas Antioksidan Sirup Buah Naga Kulit Merah Daging Putih. Skripsi. Fakultas Pertanian UNS: Surakarta.

Saati, E. A. 2010. Identifikasi dan uji kualitas pigmen kulit buah naga merah pada beberapa umur simpan dengan perbedaan jenis pelarut. GAMMA. 6(1):25 - 34.

Safari, R. 2007. Penentuan vitamin c dalam manisan nanas secara spektrofotometri dengan pereaksi metilen biru. Yogyakarta: Universitas Islam Negeri Sunan Kalijaga.

Smith, M.A.L., K.A. Marley, D. Seigler, K.W. Singletary and B. Meline. 2000. Bioactive properties of wild bluberry fruits. Journal Food Science. 65 (2): 352-356.

Syafutri, M. I., dan Pratama, F. 2006. Sifat fisik dan kimia buah mangga selama penyimpanan dengan berbagai metode pengemasan. Jurnal Teknologi dan Industri Pangan, 17(1), 43 - 47.

Risnayanti, Sri Mulyani Sabang, dan Ratman 2015. Analisis Perbedaan Kadar Vitamin C Buah Naga Merah (Hylocereus Polyrhizus) dan Buah Naga Putih (Hylocereus Undatus) yang Tumbuh Di Desa Kolono Kabupaten Morowali Provinsi Sulawesi Tengah. Jurnal Akademi Kimia. 4(2):91-96. Mei 2015.

Thurnham, D. I., and Bender, D. A. 2000. Water soluble vitamins, dalam human nutritions and dietatics. United kingdom:Harcourt.

Wahyuni, R. 2011. Pemanfaatan Kulit Buah Naga sebagai Sumber Antioksidan dan Pewarna Alami pada Pembuatan Jelly. Jurnal Teknologi Pangan. 2(1); 32 - 40.

Wardani, L. A. 2007. Validasi Metode Analisis dan Penentuan Kadar Vitamin C pada Minuman Buah Kemasan dengan Spektrofotometri Uv-Visible. Jakarta: Universitas Indonesia.

Wu, L. C., Hsu, H. W., Chen, Y., Chiu, C.C., and Ho, Y. I. 2006. Antioxidant and Antiproliferative Activities of Red Pitaya. Food Chemistry. Volume, 95: 319-327.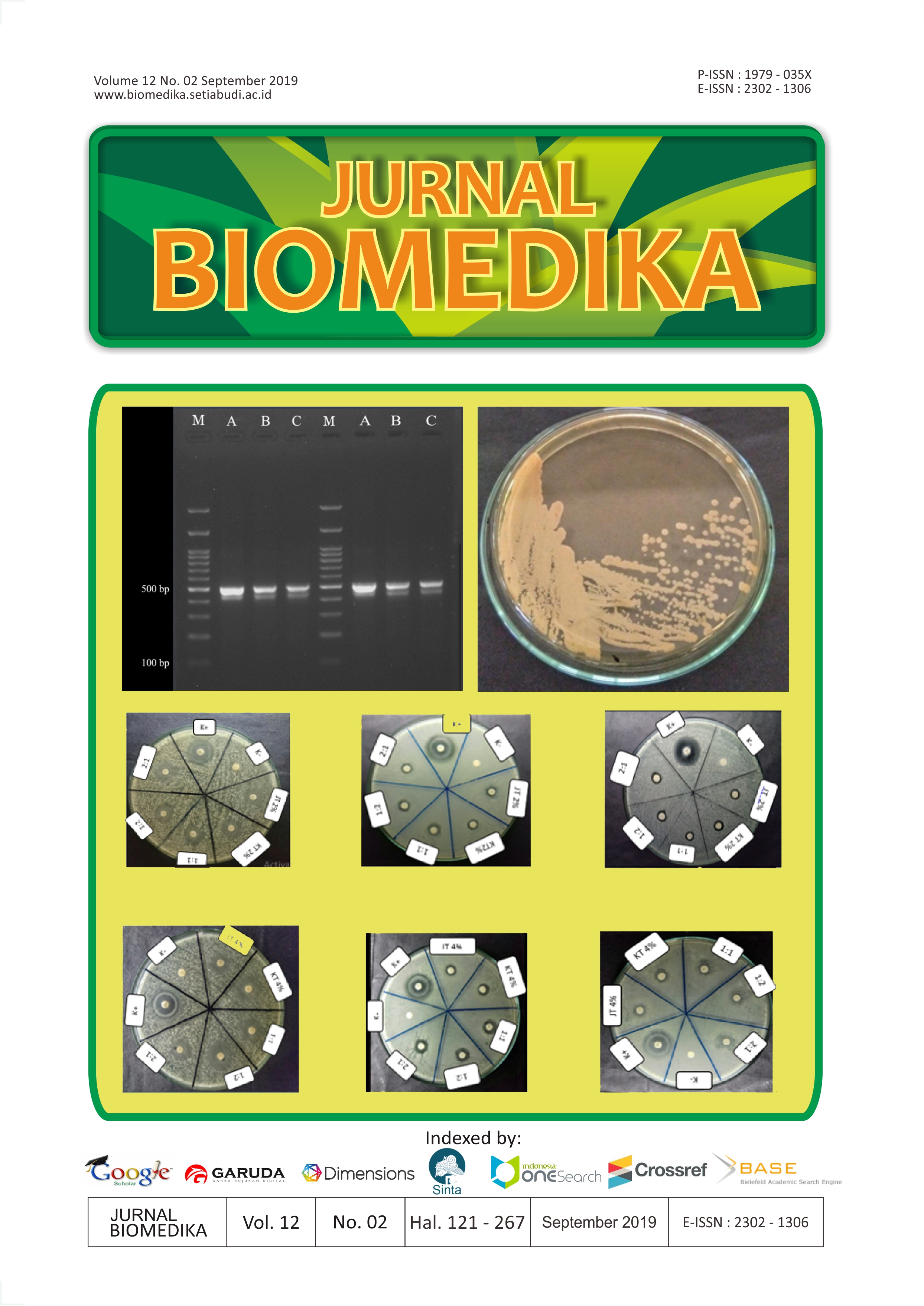 How to Cite
Aryani, T., & Mu'awanah, I. (2019). Antioxidant activity and Vitamin C levels of Fruit Flesh and Dragon (Hylocereus costaricensis) Fruit Syrup. Biomedika, 12(2), 149-157. https://doi.org/https://doi.org/10.31001/biomedika.v12i2.592